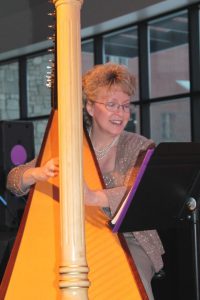 Wisconsin Harpist – Serena O'Meara
Serena O'Meara is a full-time Professional Harpist  and Harp Teacher residing in Eau Claire, WI.  Serena makes Weddings, Receptions, Rehearsal Dinners, Parties, Private or Corporate events sparkle with the sounds of her harps. She is also a private teacher to over 35 students and directs several harp ensembles.
Contact Serena: 715-830-5070, email: harp@omearamusic.com; or through her contact page – CONTACT
Booking and other Information May Also Be Found Through Links Listed Below:
Thumbtack  Gigmasters  Gig Salad  Eventective
Music Links to favorite people or sites:
Venus Harps / Triplett Harps / The Outing Lodge / Shamrock Club of Wisconsin  / Melody Music / BC Butterfly / Sharon Planer / Mark Yannie / Terry Hoepner / Florian Gardens /
.
Wisconsin harp, Wisconsin harpist, Wisconsin harp player, Wisconsin harp teacher, Minnesota harpist, Minnesota harp, Minnesota harp player, harp music, musician, wedding music, wedding musician, ceremony music, ceremony harp, ceremony harpist, reception music, dinner music, dinner harpist, Event music, Event harpist, Event harp, Classical music, Classical harp, Celtic music, Celtic harp, Celtic harpist, Irish music, Irish harp, Irish harpist, wedding harpist, harp music for weddings, harpist wedding, harpist hire, harp player